Camping in Illinois for 45 years!


The Fun's on Us !!

Free Fun for registered campers and visitors in our park is something we value.......and love to create!

Find the Fun in our Schedule of Activities!

Two-hour Country Opry show
every Saturday night
Chili Supper * Ice Cream Social * Parade
Halloween with Spook Holler

Kids Crafts * Fishing Derby

*stocked fishing ponds*


Nightly, Monthly, or Seasonal
sites are available
Weekend Activities 2015

Oct. 16 & 17 Halloween Weekend Fun 2015
Welcome Coachman Windjammers
Medallion Hunt for 3 months of free camping begins at 6:00 PM Fri & ends by 4:00 on Sat.
2- three months of free camping to be given away during the opry show Must be present to win
All events are free and paid for by the bean supper, Pancake Breakfast, bake sales, & private donations throughout the season

Friday night Please park in designated areas
5:00-7:00 Weiner Roast at west shelter bring weiner fork
6:00 Medallion Clue #1 given at the west shelter
**Campers and visitors get complimentary tickets at the office when you register.. you must have a ticket to ride on the wagon through the campground at 7:00 for the little ones or through Spook Holler; one ticket per person
7:00 Kids wagon ride around the campground (not in the holler); ticket required for wagon ride; load and unload by rec hall
7:00-9:00 Ride thru SPOOK HOLLER on a wagon **ticket required for wagon ride
Line forms with signs to load wagon by weiner roast shelter or if you dare see more by walking it or ride your golf cart
****** No pets through Spook Holler please; no grabbing the spooks
8:00 Medallion clue #2 given at the rec hall

Saturday kids activities pd for by Bean Supper, Pancake Breakfasts, Bake Sale, & private donations
9:30 AM Medallion Clue #3 given in the rec hall
10:00-11:30 AM Kids Crafts in the rec hall
1:00 Medallion clue #4 given in the rec hall
1:00-3:00 Kids activity fun with inflatables in the lot near the rec hall &
2:30 Nickels in the Hay for 5 years old and under
4:00 PM Children's masquerade NO PETS IN THE PARADE OR MASQUERADE
AREA ; 2 divisions 5 yrs old and under & 6-12 yrs ; judging; all costumed receive a treat bag & half dollar
***** GOLF CARTS MUST PARK ON THE PARKING LOT FOR masquerade..NOT ON THE GRASSY AREA
4:00 PM Medallion hunt ends
Dusk to 7:30; go through Spook Holler by walking or golf cart; wagon ride for pd visitors
8:00 PM Kentuckiana Opry with special guest Kim Bolin drawing for free camping at the opry show; must be present to win

Oct. 23, 24 … no activities
Oct. 24 Final night to camp; must leave no later than 4:00PM on Oct 25..office closed for season at 4:00
The Harbaugh family wishes to thank you for camping & attending the opry this season. Your support has been appreciated. Visit us at:
www.kentuckianahome.com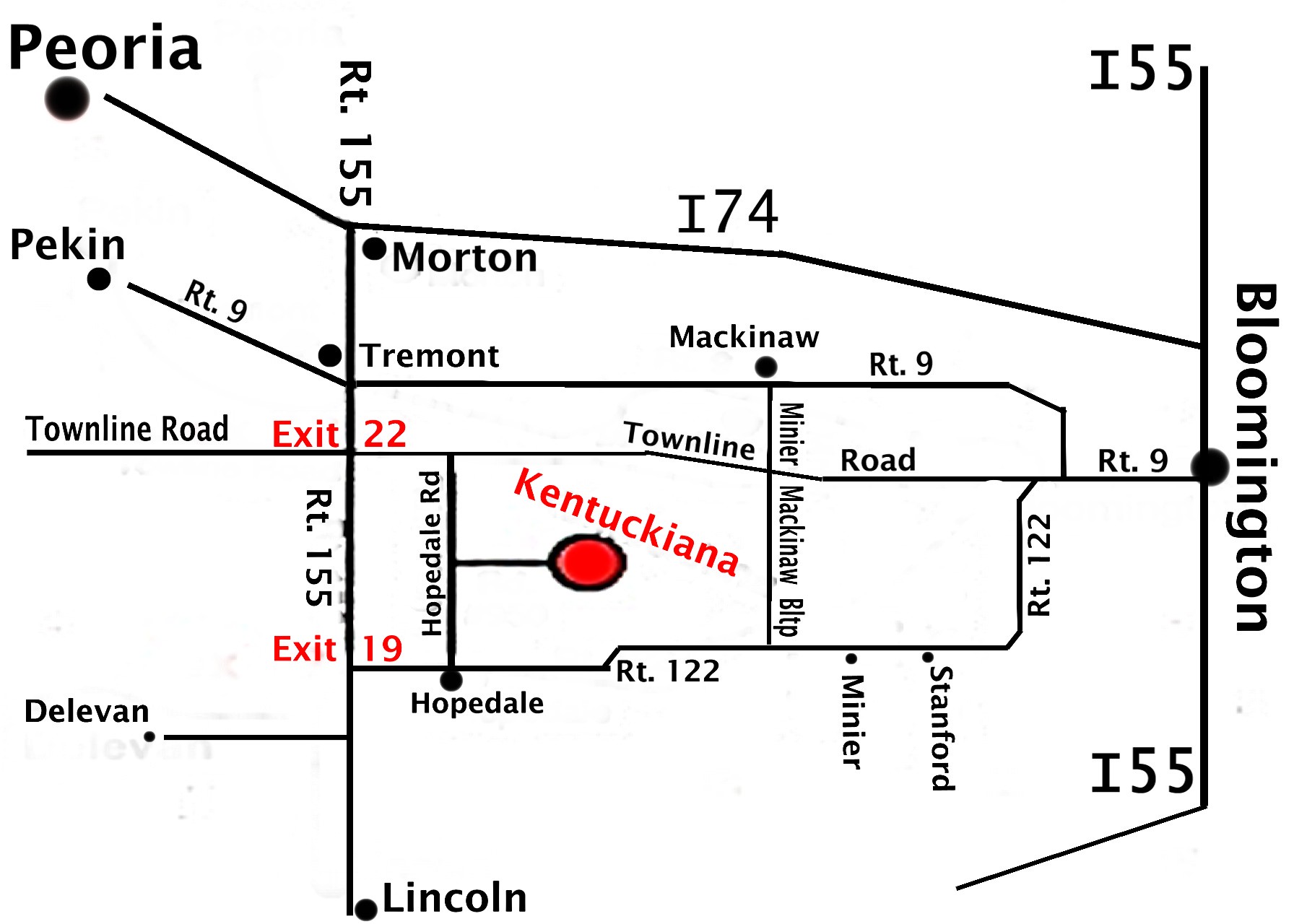 "Holler Playground"

with 50 foot Dual Slide!
Take a quick look at our Video of what we are about !
| | |
| --- | --- |
| RV Clubs, Groups and Rallies Welcome! We have the facilities and space to accommodate your needs! Call early to reserve your park shelter, free! | We have the facilities and grounds for your own style of "roughing it." Pull through shaded sites with full hook ups: (water, sewer, 50 amp, with picnic table and concrete pad) or, secluded primitive tent camping in the "holler." Click on our Schedule of Events, above, to see what's new for 2015 - or try "Looking Back" to see how things have changed over the past 45 years. Our family welcomes you, and hopes you camping at Kentuckiana! |
Back to Top
Kamp (309) 449-3274

Email: Kentuckianakampandopry@yahoo.com .

27585 Kentuckiana Rd.
Mackinaw, Illinois 61755